The day of the great stall has been and gone. Stylish raised $34.25 and her grandfather is donating a top-up to $40. She started out quite shyly asking people if they wanted to donate, and then the little girl from next door came over to help and started shouting "COME AND BUY LEMONADE TO HELP THE ANIMALS" and there was suddenly $15 in the basket, it doubled over the next two hours. In the quiet times we sat on the pink velvet chairs out the front and chatted and drank tea. We put Stylish's radio up in the front window and turned it up loud so we had music and also to attract attention.
The stall and the rusty fence
The first customer. A lovely American womyn who was very excited to be seeing a lemonade stall in Australia!
the loud next door neighbour sampling our wares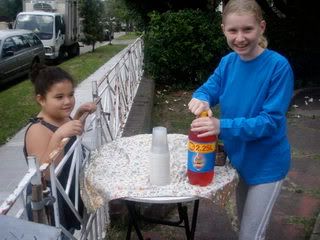 relaxing with a cuppa inbetween customers
So a great day was had by all, it was very successful! We will be transferring the money to the Victoria Wildlife fund later on in the week.