As stated we had some friends staying here for a few days. We decided to take the kids to the powerhouse museum yesterday. I'd forgotten how great it is there! It's changed a fair bit since my last visit, there are more interactive things for the kids to do. We managed to see about half of it before the kids were worn out, so Stylish, Spikee and I will go back ASAP and finish off what we started. I think I might get my dad to give Stylish a membership there for her upcoming 11th birthday. It will complement the Australian Museum membership nicely!
This is a sculpture made from household waste. Gives new meaning to the word recycling! We're going to attempt something similar here as art in the next little while, and a trip to "reverse garbage" might be just the way to kick it off!
check out reverse garbage here
trying out a unicycle. Her feet reach the pedals!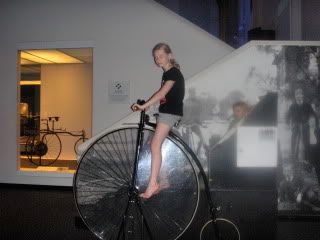 When we go back to the PH Museum we will have to take our own lunch I think. The food prices were extortionate! And we always love picnicking anyway. The other thing - probably more related to home learning - is that we will have to explore the ecologix exhibit. Spikee was enthralled by the steam engines, and loved climbing all over the one that's open. And he loved the helicopter as well. There is a giant helicopter (or maybe it's just normal size!?) hanging from the ceiling.